$340
Categories
Frontent Development
Web Development Certification Training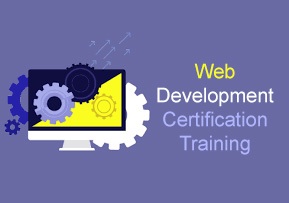 CertOcean's Web Development Certification Training uses HTML5, CSS3, Twitter Bootstrap3, jQuery, and Google APIs and deploys it to Amazon Simple Service (S3)to create unique websites. We certify you as a Web Developer after you complete the course.
Additionally, the JavaScript Essentials pre-recorded videos are incorporated in this web development online certification course.

Why should you take Web Development?
* CSS & HTML are the fundamental languages of the web.
* The average salary of a Web Developer is about 80,000 dollars annually.
* You can build your landing pages & website as well.

Features
Instructor-led Classes
The class is of 30 hours in total, which is guided by an instructor. The weekend classes are of 3 hours each, and in total there are 10 sessions

Real-life Case Studies
Live project based on the data scraped from social media sites in real time and finding insights.
Assignments
Every class will be followed by practical assignments which aggregates to minimum 40 hours
Lifetime Access
We provide our learners with lifetime access to every study material like presentations, quizzes, installation guide. Etc that we have provided them.

24x7 Expert Support
Lifetime access to our 24x7 online support team who will resolve all your technical queries, through ticket based tracking system.
Certification
CertOcean! certifies you as ' Web Developer' based on your project performance, reviewed by our expert panel.
Forum
We provide you with an area where you can have a conversation with your fellow members. This facility will help you in building your mind.
Frequently Asked Questions (FAQs):