$2180
$1960
-10% Off
Categories
Cyber security
CISA Certification | CERTIFIED INFORMATION SYSTEMS AUDITOR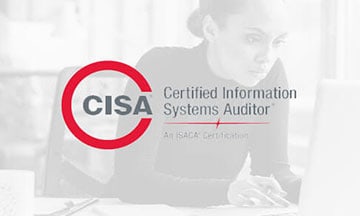 This CISA certification lets you gain mastery in information systems (IS) execution, the development, testing, and deployment and to follow the basics, standards, and guidelines to protect them. The CISA online training program strengthens your knowledge of the audit phase of the information system and how to defend it effectively. Upon completing the training, you will be prepared for CISA certification exam, which will help you to grow more in your desired path.
WHY SHOULD YOU SELECT CISA CERTIFICATION?
Internationally recognized - As it is an internationally recognized certification, it makes students' future more-brighter by adding value to their resume.

Revenue - The annual pay rate varies from approximately $52,459 to $122,326 for a specialist holding the CISA credential.

Growth rate - Increase of 38% over a CISA qualification professional's salary.
Features
Instructor-led Live Sessions
33 Hours of Online Live Instructor-Led Classes. Weekend Class: 11 sessions of 3 hours each.
Regular Assessments
To test your learning, each lesson will be followed by a questionnaire.
Lifetime Access
Where tutorials, quizzes, installation guides & class recordings are available, you will get lifetime access to LMS.
Special support 24x7
We have a 24x7 lifetime digital support staff, via a ticket-based monitoring system, to answer all your technical questions.
Certification
Complete your final course project successfully and CERT OCEAN will certify you as a licensed CISA holder.
Discussion forums
For our learners, we have a social forum that further enhances innovation through peer engagement and sharing of information.
Frequently Asked Questions (FAQs):
The criterion for the CISA Certification is indeed very basic:
OS: Any version of Windows above XP SP3 & any version of Mac above OS X 10.6\

Speed of the Internet: ideally over 512 KBPS

Headset and microphone that can be used distinctly for speaking and listening.
Along with the study simulation tests that help you to answer the toughest of the exam questions, you get access to our e-learning materials as a part of the CISA online training exam. To deepen your learning, you will also get an online participant rulebook with cross-references to e-learning.
The cost of
CISA Certification
exam is $760 depending on the registration mode and whether or not you are a registered member.