$1999
$1699
-15% Off
Categories
Cyber security
CompTIA Cybersecurity Analyst (CySA+) Course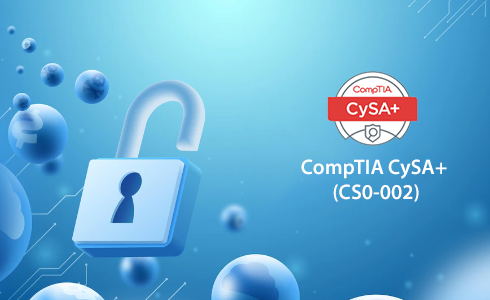 CompTIA Cybersecurity Analyst (CySA+) Course Overview

The CompTIA CySA+ exam is an internationally targeted validation of intermediate-level security skills and knowledge. While there is no required prerequisite, the CompTIA CySA+ certification is intended to follow CompTIA Security+ or equivalent experience and has a technical, "hands-on" focus on IT security analytics. The CompTIA CySA+ examination is designed for IT security analysts, vulnerability analysts,or threat intelligence analysts. The exam will certify that the successful candidate has the knowledge and skills required to configure and use threat detection tools, perform data analysis and interpret the results to identify vulnerabilities, threats, and risks to an organization with theend goal of securing and protecting applications and systems within an organization.

Learning Objectives:
Provide a review of the following four skills: threat management, vulnerability management, security architecture and toolsets, and cyber incident response.
Supplemental self-study preparation resource for the CompTIA CySA+ exam.
Understand how to configure and use threat detection tools, perform data analysis, identify vulnerabilities, threats and risks, and secure and protect applications and systems within an organization
Course Description
In this course, you will gain experience in the five major learning domains in the CompTIA CySA+, which include threat and vulnerability management, software and systems security, security operations and monitoring, incident response and compliance and assessment. This course includes illustrative written material, study flashcards, a glossary of key terms, video lessons that cover practice exam questions, virtual labs that align with the exam material, and challenge questions that give you all the practice you'll need to pass the exam. Beyond exam day, you will gain an understanding of the topics covered so that you can apply them in real-world scenarios. The material prepares you for various cybersecurity work roles, such as Systems Security Analyst, Threat Analyst, and Vulnerability Assessment Analyst.
This intermediate-level CySA+ course focuses on analysis and defense techniques leveraging data and tools to identify risks to an organization and apply effective mitigation strategies. They CySA+ is an approved baseline certification of the DoD Directive 8570.
While there are no specific prerequisites for you to take this course or sit for the CompTIA CySA+ exam, it's recommended that students have knowledge of topics covered in the preceding CompTIA certifications such as A+, Network+ and Security+. You will have the best chance of success if you follow the cybersecurity pathway set up by CompTI, in which you have sat in for these prior exams before taking the CySA+. In addition, you should have computer skills and knowledge of computer networking.

By the end of this course, you should be able to:
Understand threat management and how to apply threat management techniques
Understand vulnerability management and how to apply vulnerability management techniques
Understand the process of cyber incident response
Recognize security architecture and toolsets
Determine which tools and technologies should be used given a specific scenario
Features
Instructor-led live sessions
40 Hours of Online Live Instructor-led Classes. Training Schedule: 8 sessions of 5 hours each.

Assignments
Each class will be followed by practical training sessions for a better hands-on experience.

Lifetime Access
Students will get lifetime access to all the course materials where presentations, quizzes, installation guides, and class recordings are available.

24/7 expert support
We provide 24/7 support to all the students, thereby resolving technical queries.

Certification
Once you have completed your final course training and project, you will receive a certificate stating you are a certified CompTIA CySA+.

Frequently Asked Questions (FAQs):