Categories
Cloud Computing & DevOps
Salesforce Platform Developer 1 Certification Training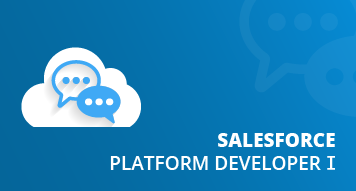 The Salesforce platform developer 1 certification is developed and designed to help learners with business logic and customizing applications programs using Apex code and Visualforce UI framework on the Force platform. This Salesforce Developer 1 certification will help you prepare for the Salesforce Dev 450 certification exam, allowing you to embark upon a new journey into the Salesforce domain. After completing the Salesforce platform developer 1 certification training, we will accustom you to Salesforce and all the other aspects related to it.
Why should you go for Salesforce platform developer 1 certification?
As per research, the Salesforce share in the CRM market will increase and reach 24.6% by the end of 2021. This statement makes Salesforce developer 1 certification, a vital accomplishment for you.
As per market reports, more than 2,00,000 companies worldwide use the Salesforce platform, which is why you need to know the basics about the channel, and this Salesforce platform developer's 1 certification training will help you achieve the same goals. 
As per top job posting platforms, the average salary for a Salesforce developer is $111,649 per year, making the Salesforce platform developer 1 certification an absolute necessity for people who want to achieve a good salary hike. 
Features
Instructor-led Live Sessions
There will be 12 instructor-led interactive online sessions of 3 hours and 18 sessions of 2 hours for weekend and weekday batches.
Real-life Case Studies
Towards the end of the training, you will be working on a Salesforce project.
Assignments
Each class has a quiz which shall be finished before the next class and helps you to apply the concepts taught during the class.
Lifetime Access
You get lifetime access to the LMS. Class recordings and presentations can be viewed online from the LMS.
24/7 Expert Support
We provide 24/7 support to all the students, thereby resolving technical queries.
Certification
Onceyou complete your final project, you will receive the Salesforce platform developer 1 certification training from CertOcean.

Frequently Asked Questions (FAQs):