Categories
Cloud Computing & DevOps
AWS Solution Architect Associate Certification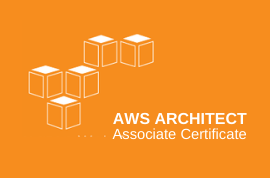 CertOcean's AWS Solution Architect Associate Certification Course has been designed and developed under the guidance of AWS Mentors to help you get started with the preparation for the Certification Exam almost instantly and help you achieve a highly-reputed IT Certification to boost your Profile. The AWS Solution Architect Associate Certification will enable you to effectively structure and deploy secure and robust applications using AWS. To apply for this AWS certified solutions architect online course, you don't need any prior programming experience with AWS or Cloud. Moreover, this AWS Certified Solution Architect course will help you study and learn about the AWS services based on databases, network, storage, cost optimization, and security requirements. 
Why should you take AWS Solution Architect Associate Certification? 

The Amazon Web Services Solutions Architect certification is one of the most essential and top-rated courses in the IT sector today. Its global prominence and utter need in the organization are the reasons why it is a lucrative cloud certification for professionals. 
As per high-end surveys and research organizations, the global public cloud service market will grow to $331.2 billion in 2022. It proves the profitability of the cloud ecosystem and how professionals can take advantage of this once-in-a-lifetime opportunity. 
As per research, the AWS Cloud Solution Architect's average salary ranges from $76,039 per year for a technical specialist to $140,000 for a Solution Architect. For professionals who wish to further their careers in the same domain can take leverage from the AWS Certified Solution Architect course. 
Features
Instructor-led live sessions:
Online sessions and classes conducted by expert faculty in networking and systems administration.
Assessments
Regular assessments followed by a quiz to assess your learning and understanding.
Assignments
Each class will be followed by practical training sessions for a better hands-on experience.
Lifetime access
Students will get lifetime access to all the course materials where presentations, quizzes, installation guides, and class recordings are available.
24/7 expert support
We provide 24/7 support to all the students, thereby resolving technical queries.
Certification
Once you have completed your AWS Certified Solution Architect final course training and project, you will receive a certificate from CertOcean.
Frequently Asked Questions (FAQs):