Categories
Software Testing
Testing The Performance With The Help Of JMeter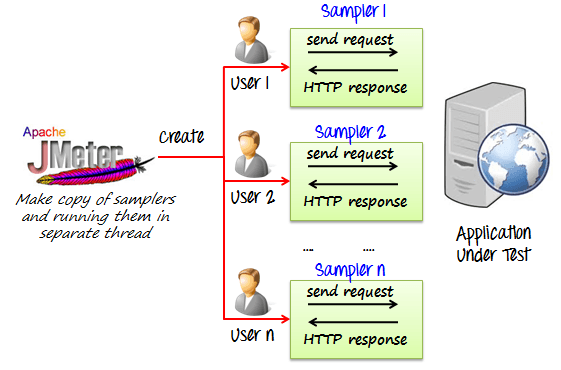 CertOcean's Performance Testing Course Using JMeter equips the learners with software behavior knowledge during heavy load due to work. The course will teach you the ways of measuring the latency of the software & response time. Also, it will acknowledge you with the methods to check whether a specific software package is efficient for scaling or not. The other thing that the JMeter course will provide is monitoring & manipulating software's overall performance under various load types. To Summarising the topic, the course covers almost all the topics related to performance testing using JMeter. Like every course starts with the introduction, this JMeter course also introduces the learners to the topic. Then slowly, it moves towards the methods of performance testing using JMeter.
Why should you take it?
Accenture, Infosys, IBM, & Barclays are some of the leading companies that demand Performance Testers for their clients across all fields.
* Most of the software is built on a performance testing strategy as it ensures the durability and reliability of that software. Performance testing using JMetercourse will explain to you the mechanism of how to test performance.

* Talking about the salary of a Performance Tester, it is near about sixty-eight thousand dollars annually on average. (According to the Payscale.com)
Features
Instructor-led Sessions
15 Hours of Online Live Instructor-Led Classes. Weekend Class : 5 sessions of 3 hours each.
Real-life Case Studies
Live project based on any of the selected use cases, involving implementation of the various Performance Testing concepts.
Assessments
Every module and every class contains a test. With this, you can know how much knowledge you have acquired from CertOcean's online course.

Lifetime Access
CertOcean provides you with the lifetime availability of tests, class recordings, quizzes, and an installation guide.
24x7 Expert Support
We provide learners with 24x7 support. Throughout your lifetime, we provide you with complete support with your queries
Certification
Towards the end of the course, you will be working on a project. CertOcean certifies you as a "Performance Tester" based on the project.
Forum
We have a community forum for all our customers that further facilitates learning through peer interaction and knowledge sharing.
Frequently Asked Questions (FAQs):