Categories
Operating system
Linux Administration Certification Training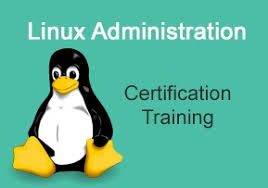 The Linux Administration Certification Training course helps the candidate grow more in this field and sharpen their minds about being Linux Administrator and professionals. Being a professional in Linux administration training, a person can run various applications and prepare himself to perform different functions. Linux professionals can maintain the administration when it comes to security and can create a network configuration.

Why should a candidate take this course?
According to the website named Linux.com, The huge country China will be moving towards Linux by the end of the year 2020, adopting the 'de Windowsifying' process.
The following are the Multinational companies which use Linux all across the world:
* IBM
* Wikipedia
* New York Stock Exchange
* Twitter
* Google
* NASA
According to the website named Indeed.com, the average salary annually a Linux Administrator has is $95k.

Features
Instructors LED Sessions
42 Hours of Online Live Instructor-Led Classes. Weekend Class : 14 sessions of 3 hours each
Assignments
Each class will be followed by practical assignments which will aggregate to minimum 25 hours.
Lifetime Access
You get lifetime access to Learning Management System (LMS) where presentations, quizzes, installation guide & class recordings are there.
24 X 7 Expert Support
We have 24x7 online support team to resolve all your technical queries, through ticket based tracking system, for the lifetime.
Forum
We have a community forum for all our customers that further facilitates learning through peer interaction and knowledge sharing.
Certification
Towards the end of the course, you will be working on a project. Edureka certifies you as a Linux Admin Expert based on the project.
Frequently Asked Questions (FAQs):
You have to options either to see the class recordings or to attend the next live batch. You will not miss it.

We believe in quality, so we take fewer students in a batch as we think it is essential to maintain standards.
You don't need to attend any demo sessions; trust us and go ahead with the enrollment part.

If you are still having any queries related to the enrollment and the course, you can give us a call on +1 805 200 4058 or mail us at
[email protected]
.