$1450
$1220
-16% Off
Categories
Cyber security
Computer Hacking Forensic Investigator (CHFI v10) Certification Course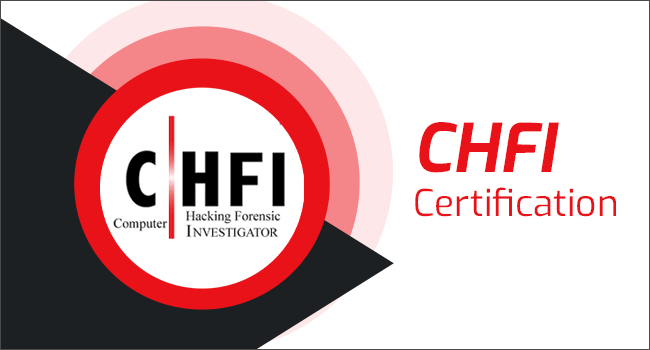 Course Objective

EC-Council released the most advanced computer forensic investigation program in the world. This course covers major forensic investigation scenarios that enable you to acquire hands-on experience on various forensic investigation techniques and standard tools necessary to successfully carry-out a computer forensic investigation.
Battles between corporations, governments, and countries are no longer fought using physical force. Cyber war has begun and the consequences can be seen in everyday life. With the onset of sophisticated cyber attacks, the need for advanced cybersecurity and investigation training is critical. If you or your organization requires the knowledge or skills to identify, track, and prosecute cyber criminals, then this is the course for you. You will learn how to excel in digital evidence acquisition, handling, and forensically sound analysis. These skills will lead to successful prosecutions in various types of security incidents such as data breaches, corporate espionage, insider threats, and other intricate cases involving computer systems.
Target Audience

The CHFI v10 training and certification course have been developed to equip the security professionals accountable for various executing roles pertaining to the computer forensics, incident response, and information system security. It helps the workforce in the roles of:



Digital Forensic Examiner

Computer Crime Investigator

Computer Forensic Analyst

Network Forensic Examiner

Computer Network Defense (CND) Forensic Analyst

Forensic Analyst and technician

Special Agent
Course Curriculum
Module 1.

Computer forensics in today's world
Module 2. Computer forensics investigation process
Module 3. Understanding hard disks and file systems
Module 4. Data acquisition and duplication
Module 5. Defeating anti-forensics techniques
Module 6. Windows Forensics
Module 7. Linux and Mac Forensics
Module 8. Network Forensics
Module 9. Investigating Web Attacks
Module 10. Dark Web Forensics
Module 11. Database Forensics
Module 12. Cloud Forensic
Module 13. Investigating Email Crimes
Module 14. Malware Forensics
Module 15. Mobile Forensics
Module 16. IoT Forensics
Course Description
Computer Hacking Forensic Investigation or CHFI v10 training course is an all-encompassing certification training course devised by EC-council that helps security professionals stay ahead of the curve with extensive know-how of detecting and investigating the cyber-attacks and exploiting all crucial evidence to support the investigation reports. This certification also focuses on explaining all vital components to perform security audits ensuring prevention from such attacks in the future.
CHFI certification authenticates the expertise of security professionals in overall computer forensics including reporting the incidents of cyber-attacks and hacking attempts in the courts of law. Computer hacking Forensic Investigator (CHFI V10) is a vendor-neutral training certification that imbibes extensive understanding of diverse cyber forensic techniques, ultra-moderns forensic tools, footprints collection, and other essential components to conduct far-reaching hacking forensic investigations with hands-on exposure.
With the latest update to CHFI v10 reflective of our training course, we will have detailed methodological learning approach, dark web & IoT Forensics, coverage on malware analysis, forensics for cloud infrastructure, evidence files, and complex labs. This update will prepare you for the CHFI v10 certification requirements and launch your career to the ulterior level, This training has been exclusively designed to expertly train the professionals intending to advance their career as Forensic Investigators and execute their security roles with more proficiency. It focuses to practically explain miscellaneous foolproof methodologies to address digital forensics concerns in the organization, that constitute core fundamentals of security incidents including security infrastructure analysis tools and techniques to identify and capture legal evidence against the hackers and intruders. CHFI V10 certification requirements enable the cyber investigators to detect incidents such as compromising of the confidential data, trade secret thefts, exploitation of the intellectual property, forensics for cloud infrastructure and digital frauds.
Features
Instructor-led live sessions
40 Hours of Online Live Instructor-led Classes. Training Schedule: 8 sessions of 5 hours each.

Assignments
Each class will be followed by practical training sessions for a better hands-on experience.

Lifetime Access
Students will get lifetime access to all the course materials where presentations, quizzes, installation guides are available.

24/7 expert support
We provide 24/7 support to all the students, thereby resolving technical queries.

Certification
Once you have completed your final course training and project, you will receive a certificate stating you are a certified Computer Hacking Forensic Investigator (CHFI).
.

Frequently Asked Questions (FAQs):