Categories
Project Management
Certified ScrumMaster by Scrum Alliance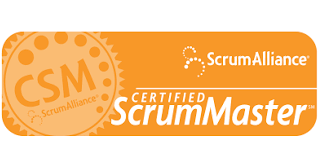 A one-of-a-kind course partnership between Scrum Alliance and CertOcean, Certified ScrumMaster covers all the technical knowledge you need to know about ScrumMaster, including agile values and principles, Scrum framework, and agile estimation and planning. The scrum alliance certification course enriches your understanding of ScrumMaster with adept hands-on session planning and teaching. You will indulge in rigorous training practices that offer an energetic and interactive learning opportunity. At the end of this course, you will be proficient with ScrumMaster and its fundamentals; and possess the skills of a facilitator and system thinker.

Why should you take the Certified ScrumMaster course?
Certified ScrumMaster certification is a globally acknowledged accreditation bestowed by Scrum Alliance to professionals who seek to develop skills in scrum terminology, practices, and principles.
As a Scrum Alliance Certified ScrumMaster, you can motivate and lead your teammates, showcase to employees that you have the experience and skills to lead an agile team successfully. This scrum alliance certification will make you competent for high-end paying jobs.
The agile methodology takes the world by storm, and a Scrum Alliance Certified ScrumMaster credential will set you apart from the crowd. Your expertise will be far beyond a conventional project manager.

Features
Instructor-led Sessions
16 hours of online live instructor-led classes.

Real-Life Case Studies
Live project based on any of the selected use cases.


24/7 Expert Support
We provide 24/7 online support to resolve all your technical queries and course-related issues.

Certification
You will be awarded 16 PDU's and ScrumMaster certificate from Scrum Alliance.


Frequently Asked Questions (FAQs):