Blockchain Certification Training Course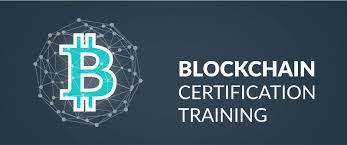 Blockchain training online courses are beneficial for people new to blockchain. Top industry experts in consultation with blockchain educators have designed this course. It includes detailed concepts about Bitcoin, MultiChain, Hyperledger, and Ethereum. This blockchain course will give you an immersive knowledge about blockchain as well as how it functions. The instructors will provide you with complete assistance throughout the duration of the course. At the end of the course, you will be able to completely master the Ethereum ecosystem.

Why should you opt for Blockchain training online?
1. Blockchain technology is fast catching up with every part of the world. People are growing more inclined towards it. Blockchain has developed into much more than just
banking and cryptocurrency.
2. In 2019 alone, nearly $ 3B was spent on Blockchain as well as its related areas. According to a report by IBM, the blockchain market is set to be worth $60 billion by the year 2024. That's an astounding figure. This alone should be enough to convince you to take up this course.
3. Apart from that, the earnings are also a great factor in convincing you to learn about blockchain. An ethereum developer can earn as much as $110,000 per annum! This six-figure salary is in stark contrast to the regular jobs.

Features
Instructor-led live sessions
36 Hours of Online Live Instructor-Led Classes. Weekend Class : 12 sessions of 3 hours each.
Real-life Case Studies
Live project based on any of the selected use cases, involving implementation of the various Blockchain concepts.
Assignments
Each class will be followed by practical assignments to assess your learning.
Lifetime access
Students will get lifetime access to all the course materials where presentations, quizzes, installation guides, and class recordings are available.

24/7 expert support
We provide 24/7 support to all the students, thereby resolving technical queries.

Certification
Once you complete your final project, you will receive the Blockchain certification training from CertOcean.
Frequently Asked Questions (FAQs):