$1750
$1550
-11% Off
Categories
Cyber security
CompTIA Advanced Security Practitioner (CASP+) Course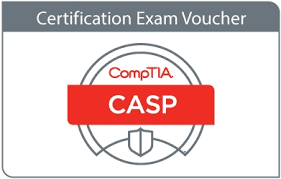 CertOcean's CompTIA Advanced Security Practitioner (CASP+) Course with CASP certification has been developed and designed for you to get professional management experience in the field of Cybersecurity Policies and how they can be implemented in an organization. This CASP training course is globally certified and educates learners about cybersecurity's core skills, imperative for maintaining a secure flow of data for network administrators. This CASP Certification is not only for Cybersecurity Professionals but also Managers who would like to get a knack for Cybersecurity Engineering and study the necessary protocols required for its smooth functioning. Post the completion of this CASP training course, you will be able to use your skills in risk management, risk mitigation, threat management, and intrusion detection. 
Why should you take CompTIA Advanced Security Practitioner (CASP+) Course
Securing data and associated networks is an urgent need in every organization. With business expansion comes the responsibility of managing and securely storing that data. Moreover, companies like Amazon, Dell. E&Y, Accenture, Capgemini, Intel, HP, Verizon, etc., rendering data security as a mandatory task, the CompTIA Advanced Security Practitioner (CASP+) Course is one way you can achieve leverage over other candidates. 
Professionals who are learned, skilled, and experienced in the domain of CompTIA Advanced Security Practitioner (CASP+) receive an average compensation of $84,000 - $120,000 which is 40% higher than the regular candidates. 
Data breach and hacking have become a real threat for organizations, especially the ones that have been established for quite some time in the market. Therefore, there is an urgent demand for professionals who can manage cybersecurity, take charge of the data stored, and keep it safe and secure from cybercriminals. CompTIA Advanced Security Practitioner (CASP+) Course is a stepping stone in your career, to register your presence as an essential candidate. 
Features
Course Duration
45 Hours of Online Live Instructor-led Classes. Training Schedule: 9 sessions of 5 hours each.

Assessments
Regular assessments followed by a quiz to assess your learning and understanding.

Lifetime access
Students will get lifetime access to all the course materials where presentations, quizzes, installation guides, and class recordings are available.
24/7 expert support
We provide 24/7 support to all the students, thereby resolving technical queries.
Certification
Once you have completed your final course training and project, you will receive a certificate as a CASP+ training certified.
Frequently Asked Questions (FAQs):
Ten Years of IT Administration along with 5 Years of Experience in Technical Security is highly recommended before taking up this course.
With this course, you will gain the necessary IT Certification that will certify your advanced-level competency in mitigating enterprise risk and bolstering their security architecture, integration, and operations with advanced Cybersecurity Policies.
Security Engineers and Architect, Application Security Engineers and Technical Analysts (Lead) can take up this CASP certification course to improve their understanding and get a valuable IT Certification.