SAS Training and Certification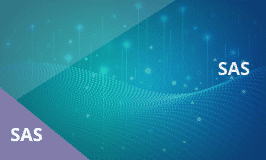 CertOcean's SAS certification training course is curated by industry experts keeping in mind the current need and demands of the market and will help you learn the most advanced concepts of SAS programming and analytics. Through the SAS online training, you will be able to analyze and write SAS codes for all real-case scenarios, learn to use SAS to work along with the datasets, accomplish advanced statistical conclusions through modern SAS, and optimize results as per the advanced SAS programming. The SAS online course is one way you can enter the SAS market and further your career in the same domain.

Why should you take up the SAS certification training course?
* When it comes to data science programs and related fields, SAS is a proven leader as per the Gartner Magic Quadrant review. This makes the SAS online course a must for all the professionals
* SAS has been in existence since 1976 and has helped more than 85,000 customers to develop more scalable and adaptable sites. Moreover, the modern SAS codes help
businesses make better decisions faster. This is one of the biggest reasons why SAS online training is such hype in the market.
* As per job boards, the average salary for a Business Intelligence Developer skilled
and learned in SAS is more than $100k, which is a great pump for employees looking
for similar high-paying jobs.

Features
Self-Paced Training
You will undergo self-paced learning where you will get an in-depth knowledge of various concepts that will be covered in the course
Assessments:
Regular assessments followed by a quiz to assess your learning and understanding.

Assignments:
Each class will be followed by practical training sessions for a better hands-on experience.

Lifetime access:
Students will get lifetime access to all the course materials where presentations, quizzes, installation guides, and class recordings are available.

24/7 expert support:
We provide 24/7 support to all the students, thereby resolving technical queries.

Certification:
Once you complete your final project, you will receive the SAS online course training from CertOcean.
Frequently Asked Questions (FAQs):