Categories
Programming and Web Development
Node.js Certification Training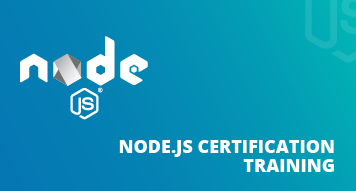 The node.js certification from CertOcean is developed and curated by industry experts to help professionals learn about developing scalable web applications through MongoDB. This node.js course online training will help you gain in-depth knowledge of REST APIs, implement testing, write real-time chat applications using Socket IO, and build applications using a microservices architecture. This node.js online training will cover all the details required to move forward in your career and achieve a good salary hike.

Why should you go for node.js certification?
* As per Gartner, Node.js course online has become necessary for modern web development, making Node.js an indispensable tool.
* Several big companies like IBM, LinkedIn, Microsoft, Netflix, PayPal, SAP have adopted the Node.js platform, thereby making Cert Ocean's node.js online training a must for career development.
* As per job boards, the average salary for a professional with Node.js certification ranges from $72,665 per year for Web Developer to $117,927 per year for Senior Software Engineer.

Features
Instructor-Led Live Sessions
30 Hours of Online Live Instructor-Led Classes. Weekend Class : 10 sessions of 3 hours each.
Projeects
A real-life project involving implementation of the various Node.js concepts learnt in the course
Assignments
Each class will be followed by practical assignments and quizzes.
Lifetime Access
Students will get lifetime access to all the course materials where presentations, quizzes, installation guides, and class recordings are available.
24/7 Expert Support
We provide 24/7 support to all the students, thereby resolving technical queries.
Certification
Once you complete your final project, you will receive the"Node.js Developer" course online training certification from CertOcean.
Frequently Asked Questions (FAQs):