Categories
Cloud Computing & DevOps
IoT Certification Training on Azure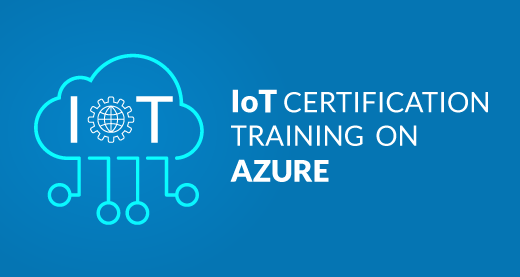 CertOcean's Microsoft Azure IoT certification course is custom-made by industry specialists. You will be a professional at Raspberry Pi, Sense HAT, and get the best knowledge and experience in Azure IoT Hub and Alexa Voice. It will likewise cover all concepts and ideas, for example, IoT Framework, IoT Solution architecture, IoT Ecosystem, Networking Protocols, and Application Layer conventions. This IoT Certification Training on Azure course will come with a real-life demo and actual case studies for helping one master the IoT technology.
Why do you need to take up the Microsoft Azure IoT certification course Training? 
By the year 2020, 50 billion gadgets will have connected with the Internet of Things (IoT)

The worldwide IoT market will grow exponentially from $655.8 billion to $1.7 trillion around the year 2020

The average remuneration of an IoT Developer is $150k - Glassdoor.com.
Features
Mentor-led Sessions
30 Hours Instructor-led online classes of Online Live Instructor-Led Classes.
Weekend Sessions: 10 classes of 3 hours each.
Real-life Case Studies
Real-life case studies include live projects on any specific and selected case studies that will implement different IoT ideas utilizing Raspberry Pi.
Assignments
Each class will have practical and reasonable assignments and tasks, which will aggregate to at least 20 hours.
Lifetime Access
Get lifetime access to LMS Learning Management System) where you will find quizzes, installation guides, presentations, and recordings of session classes too.
24 x 7 Expert Support
We have a 24x7 online help group to resolve all your specialized inquiries through one ticket based tracking system. Here lifetime support is provided.
Certification
Towards the end of the course, you will be working on a project. Edureka certifies you as a "IOT Developer" based on the project
Discussion Forums
With a community forum exclusive to our customers, we facilitate the learning process through group interactions and knowledge sharing amongst all.
Frequently Asked Questions (FAQs):